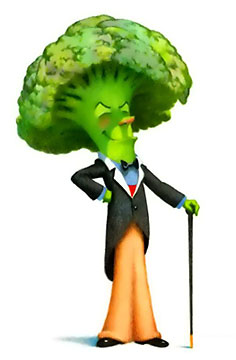 "Bud Brocolli," a favorite character from The Wild Bunch, G.P.Putnam's Sons, 1997
Born '51. UCLA(B.A.), and six semesters at the Art Center College of Design. 11 years ('78-'89) as a character layout and background artist for Hanna-Barbera, Filmation, and other Los Angeles animation studios, on TV and film projects now best forgotten(!). Illustrated 7 picture books for G.P.Putnam's Sons, two of which I also wrote. Eggbert, the Slightly Cracked Egg (Tom Ross, author)has sold over 100,000 copies, and been translated into 2 foreign languages. Presently retired, living in Albuquerque, New Mexico. Grateful to have time to do my own work.
Coming up with a satisfying figurative composition that addresses a storytelling problem remains for me a worthy task. To that end I try to work out of my head as much as possible, and rely on photos only when necessary, even in this age of digital information. The goal, then is to make images that will stay with the viewer.
CLIENT LIST
Schering-Plough
G.P.Putnam's Sons
MacMillan-McGraw/Hill
Harcourt, Brace, and Jovanovich
Albuquerque Monthly Magazine
Saga, Inc
RESUME
'70-75–UCLA, B.A.
'76-78–Art Center College of Design, Pasadena,CA
'78-89–Background and character layout artist for animation studios in Los Angeles including Hanna-Barbera, Filmation, and others.
'92-2008–Illustrated 7 picture books (author on 2) for G.P.Putnam's Sons, and freelance illustration.
2008–present–Retired painter, living in Albuquerque, NM